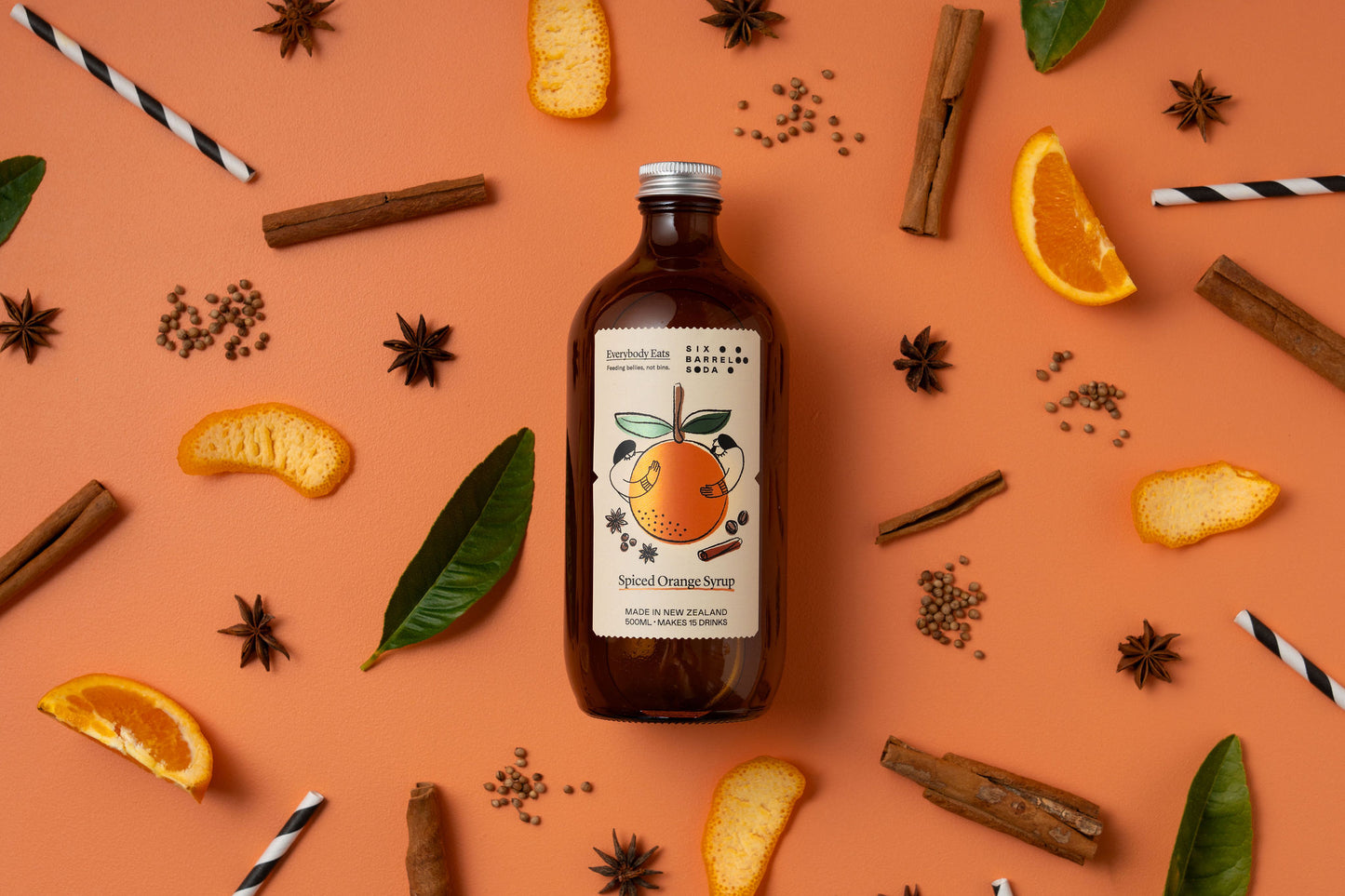 We're excited to launch our sparkling new collaboration with pay-as-you-feel community enterprise Everybody Eats, which will help to reduce food poverty and food waste.  
Introducing the new limited edition Spiced Orange Syrup - a sustainable soda syrup filled with zesty New Zealand oranges and soft spices, making it a perfect year round drop. The orange rinds are kindly donated by Moore Wilson's - a byproduct from their fresh juices. 
We've been making wonderful drinks since 2012, with a strong focus on low-waste and reusable materials, so this collaboration was meant to be. Each purchase of this soda syrup supports Everybody Eats and their mission to reduce food waste, food poverty and social isolation in Aotearoa.
With 1 in 5 New Zealanders going hungry each day, Everybody Eats is all about 'feeding bellies, not bins', while also focusing on social isolation that plagues so many in our communities. The teams in Auckland and Wellington rescue ingredients like oranges on a weekly basis, in order to help those in need across the nation.
Everybody Eats is an award-winning, not-for-profit dining concept that takes perfectly good food that would otherwise go to waste, transforms it into restaurant-quality meals for customers who pay what they can, if they can, and brings people from all walks of life together in the process.
Here at Six Barrel we're huge fans of Everybody Eats and have so much respect for the mahi they do. This is such a fun and tasty collab with an important message behind it, and the sustainability element is close to our heart. This is the perfect drop to enjoy in hospitality venues across Aotearoa or to pick up as a gift for that someone special!
The Spiced Orange Syrup is available to purchase from select stockists across New Zealand or you can buy online, with $1 from every bottle sale going to Everybody Eats.
"It's a collaboration that made sense from the start," says Everybody Eats General Manager Amy Tew. "As a charity we look to work with brands with similar values to our own, and creating a product that uses beautiful produce that would otherwise go to waste ticks all our boxes. We hope the Spiced Orange Syrup gets the attention it deserves; it's a delicious product that would make a great gift or cocktail addition and, most importantly, proceeds from every sale will help us continue to provide three-course meals to those who need them."
Everybody Eats restaurants are located in Auckland and Wellington here.